Prof. Matthias Held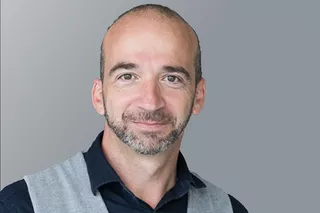 Matthias Held graduated with a diploma in product design from the HfG Schwäbisch Gmünd. He then worked for the German development aid agency GEZ as a design consultant: projects in Côte d'Ivoire, Ghana, Zimbabwe, Tanzania and Tunisia. From 1994 post-graduate studies as a Fulbright Scholar at Pratt Institute, Brooklyn, NY, graduation as Master of Industrial Design (MID). Return toGermany and foundation of the design studio quintessence in Stuttgart. Works in the field of product design, interior design, exhibitions and transmedia design, among others for Blanco, Badger Meter, Caritas, Daimler, Hugo Boss, Hymer IDC, Le Creuset and SWR.
Appointed professor for design foundation in 2006, Held set up the Institute for
Applied Research at the HfG and carried out research projects in the fields of sustainability, regenerative energy technology, medical technology and haptic interaction. He currently is Prorector for Research. He is member of the German Society for Design Theory and Research (DGTF), of the Design Research Society UK, member of the AG Gestaltung of the German Rectors' Conference, jury member of the FederalAward Bundespreis Ecodesign and expert for the Swiss National Science Foundation.
Publications:

"Nachhaltigkeit in der Designausbildung - Potenziale für transdisziplinäre Forschung" in "Nachhaltigkeit in der Lehre - eine Herausforderung für Hochschulen", Leal Filho, Springer Spektrum, Berlin 2018
"Transdisciplinary Research through Design – Shifting Paradigms as an Opportunity" in "Design as Research" , Joost, Bredies, Christensen, Conradi, Unteidig (Hrsg.), Birkhäuser, Basel 2016
"Wer gestaltet die Gestaltung? - Praxis, Theorie und Geschichte des partizipatorischen Designs, Mareis, Held, Joost (Hrsg.), Transcript, Bielefeld 2013