Your Master Studies at the HfG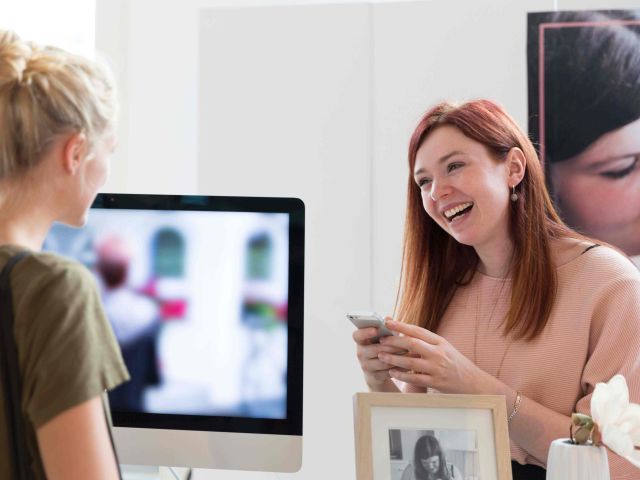 You can find answers to all ques­tions concer­ning your appli­ca­tion here:
Admis­sion Requirements
The Master's program in Stra­tegic Design is conse­cu­tive. The course is of inte­rest to you if you already have a univer­sity degree (bachelor, diploma or equi­va­lent) as a desi­gner or in a media-oriented subject. You should have earned 210 ECTS credits in your BA studies. Graduates of a six-semester BA course with 180 ECTS credits have the oppor­tu­nity to acquire the missing ECTS credits by parti­ci­pa­ting in suitable courses and projects within the univer­sity before taking up the first semester of the master's course.
Your Appli­ca­tion Documents
In the Master's programme we admit first-year students twice a year. The following docu­ments toge­ther with the appli­ca­tion form must be received by the Regis­trar's Office by 15 May or 15 November (cut-off deadline):
Tabular curri­culum vitae
Authen­ti­cated copy of the univer­sity entrance qualification
Certi­fied copy of the univer­sity degree quali­fying for the profession
Certi­fi­cate of exmatri­cu­la­tion / course of studies / Tran­script of Records
A pass­port photo
Proof of voca­tional trai­ning, profes­sional prac­tice or internship
If you apply with a foreign univer­sity degree, we also need the following documents:
Proof of know­ledge of the German language (TestDaF 4/ DSH 2)
Reco­gni­tion of your univer­sity entrance qualification/​your profes­sional quali­fi­ca­tion by the Studi­en­kolleg Konstanz
Appli­cants from China: Certi­fi­cate of the Academic Evalua­tion Centre (APS) of the Cultural Depart­ment of the German Embassy in Beijing on the authen­ti­city of the documents
With your appli­ca­tion form you submit a project outline. For this you choose a (socially) rele­vant problem that you would like to solve with the help of a design project. You can find more about the project outline here: FAQ Master
Send the docu­ments to the following address:
Univer­sity of applied Sciences
Schwa­biscn Gmünd
Student secre­ta­riat
Rektor-Klaus-Str. 100
73525 Swabian Gmünd
After submit­ting your appli­ca­tion docu­ments, you will be informed by post or email whether you will be invited to the selec­tion inter­view. Please keep an eye on your mailbox and your email inbox (inclu­ding spam folder). The selec­tion inter­view is the second part of the selec­tion proce­dure. You will receive an invi­ta­tion to the inter­view at least ten days in advance. We are curr­ently conduc­ting the selec­tion inter­views exclu­si­vely digi­tally. Personal presence is curr­ently not required.
Geschafft!
We will contact you as soon as possible by mail with your results. The semester starts in the middle of March or the first week of October.