What you can expect in 90 minutes of start-up consulting:
We start the consul­ting process with a short intro­duc­tion of goHfG so that you get an over­view of our services. The person who will accom­pany you through the consul­ta­tion will also intro­duce them­selves to you. Then it's your turn: we want to get to know you and your project better – and learn more about what moti­vates you and where you stand in the imple­men­ta­tion process.
Here are a few examples of the ques­tions we can discuss and work on toge­ther in the consultation:
What could my career path look like and what role do entre­pre­neur­ship and self-employ­ment play in it?

What are my strengths and how do I sharpen my profes­sional profile?

Which indi­vi­dual entre­pre­neu­rial compe­ten­cies do I have and do I still want to develop? How can I develop personally?

How can I posi­tion myself?

How can I/​we orga­nize our project and team effec­tively? How do we imple­ment stra­tegic plan­ning towards entre­pre­neur­ship (value propo­si­tion, market analysis, busi­ness model deve­lo­p­ment, busi­ness plan, financing)?
Our approach to consulting
The goHfG consul­ting approach is based on Tran­sac­tional Analysis and systemic cons­truc­ti­vism, their respec­tive models, methods & mind sets. Depen­ding on the focus chosen for each session, we analyse exis­ting self-regu­la­tion or orga­ni­sing patterns and empower the deve­lo­p­ment and testing of more adapted and sensible approa­ches to problem-solving. The goal of our coaching is to encou­rage auto­nomy and to enhance effectiveness.
This approach in our coaching is accom­pa­nied by the follo­wing contents and topics that can be talked about depen­ding on the issues and phases of development:

overall professional/​career strategy
personal goal-setting
defi­ni­tion of inte­rests and values
deve­lo­p­ment of personal strengths and competencies
shar­pe­ning of profes­sional profile and pitch presentation
orien­ta­tion for founders
foun­ding team development
finding team members
clari­fying roles and preven­ting conflict
design and product development
user and customer centricity
Value Propo­si­tion Canvas
stake­holder analysis / analysis of project environment
Busi­ness Model Canvas
intellec­tual property rights
market analysis
value graphs
proto­ty­ping
vali­da­tion
finan­cing / aid opportunities
sear­ching coope­ra­tion and partnerships
pitching for investors/​business angels
network stra­te­gies
marke­ting strategies
EXIST scho­lar­ship
prototype/​serial production
sales
Feed­back
Consultation
"

Persön­lich hat mich die Bera­tung und die Reflek­tion über persön­liche Stärken und Schwä­chen dabei unter­stützt in verschie­dene Rich­tungen zu denken, und meinen Blick­winkel erwei­tert. Erst durch die Bera­tung ist mir die Option der Grün­dung klar geworden. Warum warten und auf was? Geholfen hat mir auch, dass Sorgen und Ängste bespro­chen und real einge­ordnet werden."
Die goBe­ratung hat mich dabei unter­stützt, mein Kunden- und Kolle­gen­netz­werk weiter auszu­bauen, Ideen zur Grün­dung weiter zu konkre­ti­sieren und neue stra­te­gi­sche Ansätze gemeinsam zu entwi­ckeln. Aber auch in Bezug auf das Praxis­se­mester und Bewer­bungen haben die Bera­tungen sehr weitergeholfen.
"

Die Teil­nahme an den Bera­tungs­ge­sprä­chen von goHfG war für mich eine äußerst wert­volle Erfah­rung. Diese Gespräche boten mir die Möglich­keit, eine klare Perspek­tive darüber zu gewinnen, wo ich aktuell mit meinem Projekt stehe und welche Rich­tung ich in Zukunft einschlagen möchte. Darüber hinaus hat mich die Unter­stüt­zung von goHfG hervor­ra­gend auf den goAward vorbe­reitet. Die Hilfe­stel­lungen und der quali­fi­zierte Rat des Teams waren entschei­dend für meinen Fort­schritt und meine Vorbe­rei­tung. Ich bin sehr dankbar für diese Gele­gen­heit und freue mich darauf, weiterhin von solch berei­chernden Erfah­rungen zu profitieren."
goTeam
The goTeam orga­nizes and mode­rates all events and advises students and start-up teams.

goHfG Projektleiter | Coach
goHfG Lead
Systemische Beraterin | Coach
goHfG Projektassistenz
Ansprechpartnerin für Beratungstermine
CEO Whitespring | Lecturer
Speaker | Coach
goCrew
The goCrew supports us during the semester as rese­arch assistants with our tasks and ensures the connec­tion to the study programs at the HfG.
goProfs
goProfs use their exper­tise to advise students inte­rested in foun­ding a company and provide networ­king support.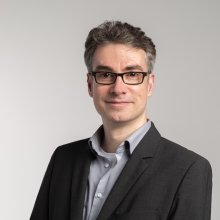 Digital Product Design and Development
Kommunikationsgestaltung
stellvertretende Vorsitzende des Hochschulrats
goAl
The goal of the start-up offen­sive of the Univer­sity of Applied Sciences Schwä­bisch Gmünd
With goHfG, we want to sensi­tize you to the topic of foun­ding and support you with your projects with the goCoa­ching on the way to a start-up.
Our crea­tive poten­tial at the HfG, such as the more than 500 soci­ally rele­vant and market-oriented HfG semester and final projects per semester, are rarely imple­mented. We want to acti­vate this untapped poten­tial for the future.
Our goal with the EXIST funding is to estab­lish a percep­tible and acti­vating start-up culture at the HfG as well as the crea­tion of neces­sary frame­work condi­tions and networ­king for inno­va­tive and high-growth start-ups to create future-proof jobs in the region in the medium term and to make targeted poten­tials sustain­ably usable.
goStruc­ture
goHfG consists out of these components: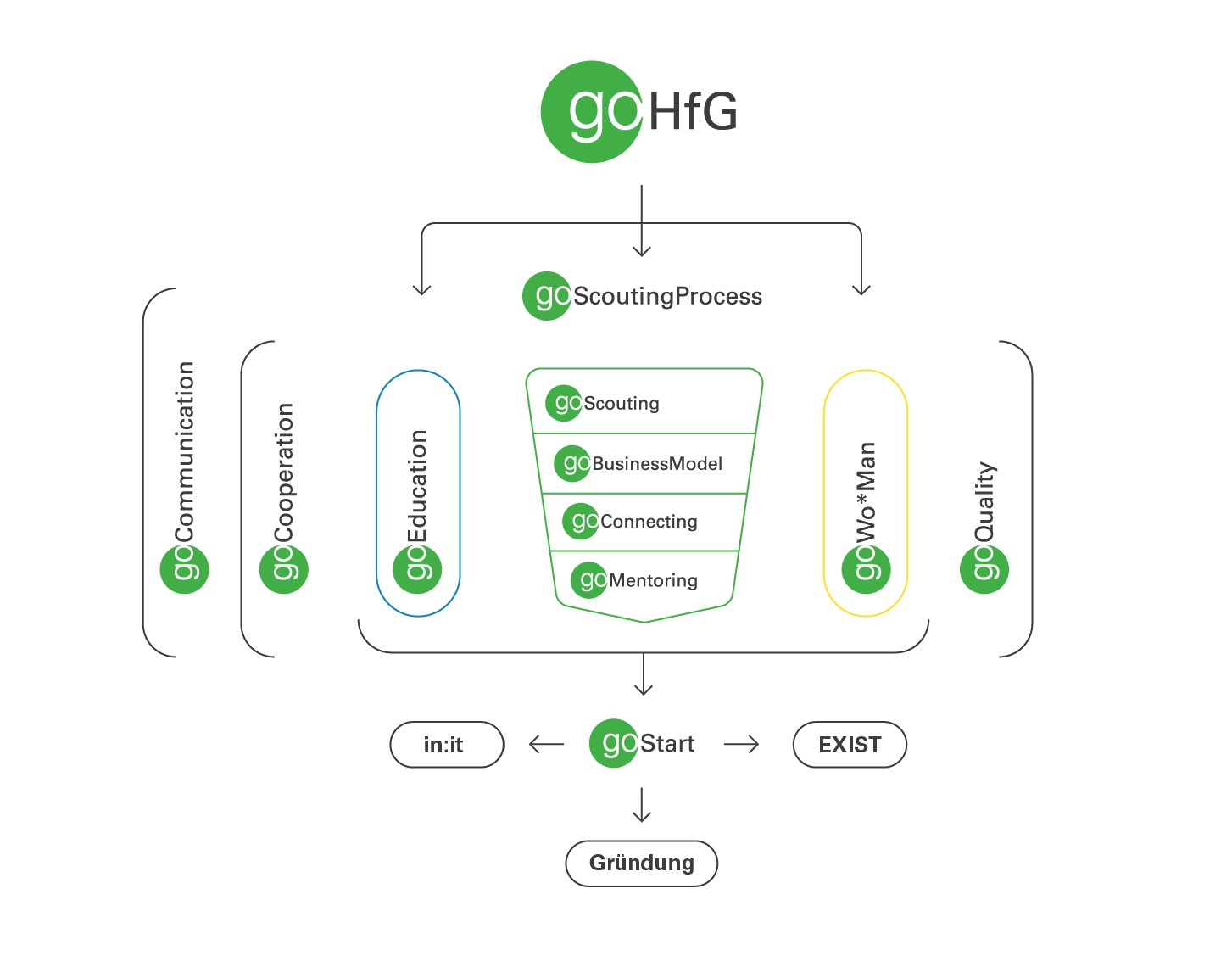 goScou­ting
Regional and national experts from busi­ness, the public, and educa­tion (scouts) syste­ma­ti­cally screen the exhi­bited term papers and theses and iden­tify teams & projects with potential.
goEducation/​goWorkshops
Work­shops to further develop projects/start-up ideas into an initial busi­ness model and perso­na­lity deve­lo­p­ment to discover important entre­pre­neu­rial quali­ties, such as orga­niza­tional skills and imple­men­ta­tion skills, resi­li­ence and self-leader­ship, conflict manage­ment, and coope­ra­tive beha­vior.
Topics include busi­ness manage­ment, such as product life cycle, busi­ness model canvas, busi­ness plan, customer orien­ta­tion, market analysis, network stra­te­gies, legal forms.

goMen­to­ring
Students and teams can get in touch with part­ners from the start-up ecosystem.
goWo*Man
In dialogue formats, videos, illus­tra­tions, blog posts, and podcasts, foun­ders, entre­pre­neurs, and teams are inter­viewed on the topic of foun­ding, and gender issues are high­lighted. The start-up role models serve as orien­ta­tion and encou­ra­ge­ment. Through the dialogue formats, the foun­ding process and the asso­ciated emotions become more tangible.
Group coaching on (gender-specific) commu­ni­ca­tion in the team to streng­then trust and commu­ni­ca­tion skills and to sustain­ably improve control in the team.

goCon­nec­ting
Networ­king events with students (inclu­ding busi­ness admi­nis­tra­tion and tech­no­logy) and part­ners of various coope­ra­tions of goHfG to expand the foun­ding team competencies.
goStart
Concrete support for start-ups by provi­ding advice on finan­cing and funding oppor­tu­ni­ties and by estab­li­shing needs-based cont­acts with players in the (regional) economy.
Gefördert durch