goHfG promotes entre­pre­neu­rial thin­king and action with work­shop offerings
goWork­shop ​
"

Entre­pre­neu­rial Skills" (Elec­tive)
The goWork­shop ​"Entre­pre­neu­rial Skills" is all about personal deve­lo­p­ment: students discover personal strengths and resources and learn how to acti­vate them. In addi­tion, the work­shop offers space to improve commu­ni­ca­tion in the team.
The work­shop provides orien­ta­tion on diffe­rent phases of life and improves self-direc­tion skills by dealing meaningfully with anxiety and reso­nance pheno­mena in time management.
Using the LEGO® SERIOUS PLAY® method, teams can also learn a new and playful way to struc­ture commu­ni­ca­tion on an equal footing and gain new insights.
goHfG Consultant | Coach
CEO Whitespring | Lecturer
Speaker | Coach
Venture on Your Innovation
Are you desig­ning sustainable products or social support services? Do you want to make a social or ecolo­gical impact and find like-minded people? In this course you will be able to exch­ange and expand on your ideas.
You can choose between two work­shops:
Learn about social or ecolo­gical impact project manage­ment, get to know two local ventures and design a plan that fits your own mission with Carolin Morlock.
If you've already got a concrete idea/​plan, prepare your appli­ca­tion for the next goAward in June 2023 or outline your appli­ca­tion for an EXIST-scho­lar­ship with Thomas Schönweitz.

Lear­ning Goals
After parti­ci­pa­ting in entre­pre­neu­rial skills & tools you will be ready:
to apply for the goAward in June (design your EXIST-scho­lar­ship appli­ca­tion)
or
to roll out your (social or ecolo­gical) inno­va­tion by knowing
your special compe­ten­cies, assets and mission
how to design a convin­cing plan (impact busi­ness model canvas)
how to network and get your team, part­ners and inves­tors on board (nego­tia­ting)
how to analyse needs and a market niche, define value and assess performance
how to align a good performing team
how to navi­gate for earned income, which fits your mission
goHfG Lead
Systemische Beraterin | Coach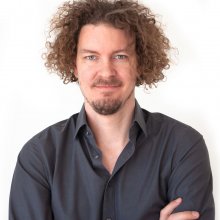 CEO Whitespring | Lecturer
Speaker | Coach
Gefördert durch